Murray and Martin's Homepage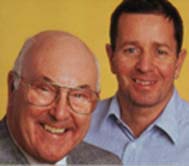 Welcome to the unofficial "Murray and Martin" homepage. This page is dedicated to the ITV Formula One commentary duo, Murray Walker and Martin Brundle.
If there is anything you would like to see added or changed, please Email me. If you have a Murray Walker or Martin Brundle page and would like a link added, please Email me.
If you would like to contact Murray Walker or Martin Brundle, then use the following address:-
ITV / Mach 1 Productions,
6 Church Studios,
Camden Park Road,
London NW19AY
ENGLAND
Tel 44 (0)171 294 2288
Fax 44 (0)171 482 4265
Links Section
Another Murray Walker Quotes Page
The Martin Brundle Quotes Page